Worcestershire hospitals anti-bullying policy 'not fit for purpose'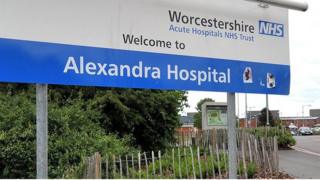 Anti-bullying policies at an NHS Trust are "not fit for purpose", according to an independent report carried out following complaints from staff.
However, the investigation into claims of a "culture of bullying" at Worcestershire Acute Hospitals Trust (WAHT) found no evidence of "endemic bullying" within the organisation.
Many frontline staff said morale was low and had fears about speaking out.
Earlier this year, five A&E consultants at the trust quit simultaneously.
The Good Governance Institute, which carried out the investigation and compiled the report, highlighted inconsistencies in the way complaints were dealt with.
Immediate action
During the course of the investigation, more than 700 members of staff across the trust's three hospitals - in Kidderminster, Worcester and Redditch - were interviewed.
One medic is quoted as saying: "The culture in Worcester is very pressured, the culture in Redditch is one of palpable fear... it is paranoid".
The report said the "Dignity at Work Policy is not fit for purpose either as a document or in the way it is administered", as staff complaints were often dealt with in an "inconsistent and confusing way".
---
Investigation conclusions
The Dignity at Work Policy is not fit for purpose
There are inconsistent and confusing approaches within the trust in regard to managing concerns raised by staff
The trust has divergent views among different teams as to what constitutes bullying and harassment
The trust needs to take stock of how its leadership and management culture operates
---
The idea of what constitutes "bullying" differed from team to team, it also said.
WAHT said it had already complied with most of the recommendations and is in the process of completing the others.
Chris Tidman, interim chief executive at WAHT said: "We have reflected on the report and approved a comprehensive plan to take immediate action to address the weaknesses identified.
"This morning we held nine staff sessions, taking the opportunity to talk and listen to our staff."
A national NHS survey published this year found that around a quarter of all staff had experienced bullying and intimidation at work.
In February, the entire consultant team running A&E services at the trust's Alexandra Hospital in Redditch resigned amid claims of a "bullying culture" and a breakdown of the relationship between medical staff and management.