Cancer patient 'has no regrets' over pension spend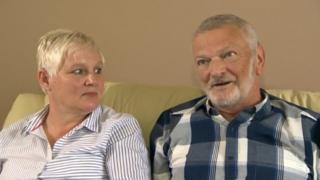 A man who spent his pension on cruises and foreign holidays when he was given six months to live says he has no regrets eight years later.
Doctors believe Bryan Baldwin, 65, from Redditch, Worcestershire, owes his "extraordinary" survival to cancer drug Nexavar.
Mr Baldwin and wife Sue wanted to enjoy the time they had left together.
He said: "I wouldn't have done it if I'd known I was going to live 10 years... but I'm glad I did it."
Mr Baldwin, who is retiring to the Isle of Wight, was diagnosed in September 2006 with kidney cancer which had spread to his lungs.
He was originally turned down for Nexavar, which is not routinely available on the NHS and costs £36,000 a year, but won an appeal and has had the drug since February 2007.
Mr Baldwin was told he only had months to live but his latest scan this month showed tumours had not returned.
The couple spent their savings on cruises and holidays, including to Las Vegas and Mexico, as well as treating their grandchildren.
Mrs Baldwin said: "I don't care. I've still got memories.
"I would rather have memories than £20,000 in the bank, I'm afraid. That means more to me than money.
"I'm quite capable of getting off my backside and going and getting a job when he's not here."
Cancer specialist Dr Emilio Porfiri said: "I also have patients treated with drugs of the same family who have lived for a number of years but not as long as him.
"He is quite extraordinary and in my experience the patient who has lived the longest - eight-and-a-half years."