Christian Bagley death: Police 'sorry' after family denied final farewell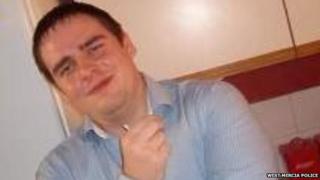 A murder victim's family are unable to give him the send-off they hoped for because his body has been allowed to become badly decomposed.
Christian Bagley, 30, from Hereford, was found with stab wounds in June.
His body was being stored at the University Hospitals of Coventry and Warwickshire mortuary but has decayed. His family cannot now see him at his funeral.
West Mercia Police said it was reviewing its mortuary processes.
'Truly regrettable'
Mr Bagley was stabbed in his arm and back as he returned from seeing his two-year-old daughter on Father's Day. He died in hospital.
Three men arrested on suspicion of murder have been released without charge.
Mr Bagley's funeral is due to take place on Friday.
His brother, Wayne Wood, said: "We weren't allowed to touch the body before it went to Coventry because forensics hadn't finished with him.
"I don't know why the body has decayed so much."
The family have been told they will not be able to bury Mr Bagley in his beloved Liverpool Football Club shirt.
"The funeral directors told us they couldn't dress the body. The clothes had to be put on top of him," Mr Wood said.
Det Supt Adrian McGee, from West Mercia Police, said: "We do not know what happened in this case [but it is] truly regrettable.
"We are working to see why this has happened and we are reviewing our mortuary processes to see if we can learn anything from this tragic and regrettable incident.
"The police will provide the family with a full explanation. We understand it adds to their grief."
The hospital said: "We would like to offer our condolences to Christian Bagley's family.
"The key factor affecting the state of a patient in the mortuary is the length of time they remain there.
"We are confident of our processes in the mortuary relating to storage."