Railway footbridge ruled too close to power lines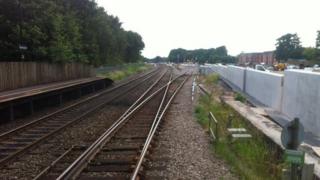 Work on a new Worcestershire railway station has been delayed due to changes in safety rules which mean a bridge would be too close to power lines.
The £17.4m project in Bromsgrove will see four longer platforms, a car park and a new footbridge.
Work ran into difficulty when the proposed footbridge was found to be about 15in (40cm) lower than new rules allow, Network Rail said.
The station was meant to open in November.
It is now expected to be completed by spring 2016.
Network Rail said the project had also encountered problems with contamination from a former oil terminal on the site being greater than expected.
Designs for the footbridge would be amended to raise it and increase the distance from electrified cables, as demanded under new European regulations, a spokesman for the firm said.
Mike Ponsonby, from Bromsgrove Rail Users Group, said the new rules were introduced in 2014 and incorporated into UK law earlier this year.
He said the implications "should have been foreseen", but the scheme had otherwise been "well planned".
Richard Dugdale, from Network Rail, said the delays were "unfortunate" but the new station would be "well worth the wait".
The existing station in Bromsgrove is unaffected by the work, the firm said.
The line is currently being electrified between Barnt Green and Bromsgrove under a wider scheme.