Herefordshire 'lost' ponds to be recovered for wildlife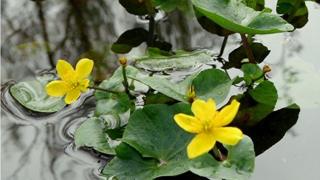 "Lost" ponds across Herefordshire are to be recovered in a new project aimed at reviving the wetlands of the county.
Pools on the Bromyard Plateau, which now exist only on old maps, are to be de-silted and renovated.
Herefordshire Wildlife Trust and the Herefordshire Amphibian and Reptile Team said 62 out of an original 96 ponds have been lost by infill and ploughing since 1880.
The charities plan to improve the habitat of wetland wildlife.
Later in the project, volunteers will provide initial species lists, against which the ponds can be monitored into the future.
Work on the plateau, which consists of Bromyard Downs, the Brockhampton Estate and Bringsty Common, is being funded by a Biffa Award community grant and £68,000 from the Heritage Lottery Fund.
Some of the ponds are known to have once been watering stops for the cattle that were moved through drover's routes across the area, the Wildlife Trust said.