Worcestershire NHS trust : 'Three warnings' from health watchdog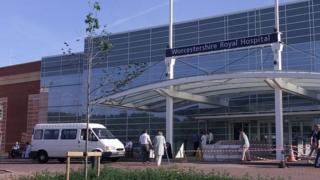 A hospital trust has been given three warnings by a health watchdog, a council has revealed.
An unannounced inspection of A&E units at Worcestershire Royal Hospital and the Alexandra Hospital, in Redditch, in March, found a "range of problems".
Worcestershire County Council said Worcestershire Acute NHS Trust's board had not been fully aware of the seriousness of some issues.
The trust said it has already made "a number of changes".
At a council meeting on Tuesday, the authority said that although the full report of the Care Quality Commission's (CQC) inspection had not yet been issued, the watchdog had imposed conditions on the trust and issued three specific warning notices - the details of which are not yet known.
---
Matthew Bone, BBC Hereford and Worcester Political Reporter
The trust that runs Worcestershire's hospitals seems to be lurching from one difficulty to another.
Increased A&E pressures have led to missed waiting targets, pushed finances further into the red and led to an investigation into bullying.
The trust hopes that re-organising services will help fix many of the problems. But the current plans - involving moving some children's and maternity services to Worcester - are controversial.
Five A&E doctors resigned from the trust over issues including the reorganisation plans and the whole process has been marked with protests and delays.
Despite the problems, the trust has not been put into special measures and the situation is far less severe than up the road at the Mid Staffordshire Hospital.
But the issues seem unlikely to be resolved quickly and people will not be satisfied with their healthcare simply being better than what was on offer in Mid Staffs - after all, that's a very low bar to clear.
---
The authority said the meeting was called to look at the quality of services at the trust - which has been missing A&E waiting targets and has a deficit of more than £26m.
In February, four A&E consultants quit Alexandra Hospital and a fifth resigned from Worcestershire Royal over concerns about planned changes at the hospitals.
In April, a doctor usually on call for major disasters was brought into Worcestershire Royal to cope with A&E problems.
It was later revealed a patient admitted that day had died and his family criticised the care he received.
Among the concerns raised by the council was a high mortality rate at the two hospitals.
Provisional data between December 2013 to November 2014 suggested it was about 10% higher than expected, compared to other trusts.
The council is awaiting the outcome of investigations into 12 Safeguarding Adults alerts made in the last six months, in relation to aspects of care at the trust and two "never events" - mistakes that should never happen - were reported during 2014/15.
In response, the trust said it had made a number of changes and it was clear "the single biggest underlying issue is making improvements to the urgent care system across Worcestershire".
What was needed was "a joined up approach across all health and social care partners," it added.