Broadway gallery artwork valued at £20,000 stolen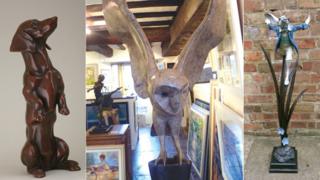 Artwork valued at more than £20,000 was stolen in a raid at a gallery.
The burglary happened at the Priory Gallery in Broadway, Worcestershire shortly after 04:00 GMT on Sunday.
Burglars threw stones through a window before taking several bronze sculptures, a painting and several smaller items. Another picture was damaged by broken glass.
It is believed there were two raiders, who were wearing dark clothing, West Mercia Police said.
A dark-coloured vehicle was also seen making off from the gallery and heading towards Cheltenham, the force said.
Gallery owner Elizabeth James said she was "devastated" by what had happened.
The gallery had been targeted earlier in the week, when a couple walked out of the shop with a small bronze work, which was later recovered, she said.
"The thieves might want to melt down the bronze, which wouldn't be all that valuable, but I think they knew what they were doing," she explained.
"I think it was either stolen to order, or they took it for themselves, in which case it will slowly filter onto the art market."
She said a neighbour heard the shop's alarm go off when the window was smashed, and telephoned the police.