Alexandra Hospital in Redditch sees all A&E consultants quit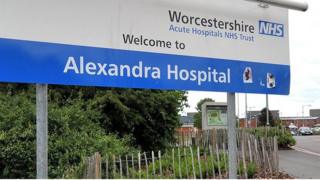 The entire consultant team running Accident and Emergency services at the Alexandra Hospital in Redditch has resigned.
A further consultant has resigned from the Worcestershire Royal Hospital.
Their reasons for leaving are "continuing uncertainty about the future of Redditch Hospital", according to BBC Midlands Today health correspondent, Michele Paduano.
All five have been offered jobs at Warwick Hospital, the BBC understands.
"I am reliably told that the relationship between management and consultants has completely broken down. They had identified problems in the department and solutions, but weren't listened to," said Paduano.
"I am told that they are very close to their teams and so would not have taken this decision lightly. One said it wasn't because he didn't love his job."
Neil Stote, from the Save the Alex campaign group, said the news was "devastating" and that local people would have grave concerns.
"It shows that something is not right, the failure to retain staff is shocking, something's not right," he said.
"The best outcome for the whole county would be for a [new] trust with a proven track record to take over. To have five consultants leave in one day is a damning verdict of Worcestershire Acute Hospitals Trust".
A spokeswoman from Worcestershire Acute NHS Trust said an urgent transition plan will be put in place and emergency care will continue as normal.