Malvern Hills cable car and beacon-top cafe plan dismissed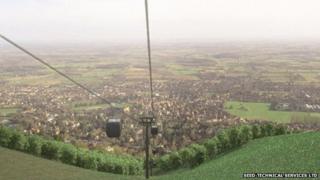 Plans for a cable car up the Malvern Hills have been dismissed by the The Malvern Hills Conservators.
Malvern for All, the not-for-profit company which proposed the idea, met the conservators earlier at a public meeting.
Roger Sutton, from the company, said he was "bitterly disappointed" but it was "not the end of the road".
The eight mile (13km) hill range is an Area of Outstanding Natural Beauty, protected by an act of Parliament.
He said the conservators put together a presentation detailing the pitfalls of the system, but he plans to "find a way round them".
But the conservators, who rejected the proposition by 21-0, with one abstention, said they were "not prepared to entertain the idea at all".
The conservators were established under the Malvern Hills Act in 1884 and manage more than 1,200 hectares (3,000 acres) of land on the hills and commons in and around the town.