People invited to sober up in former Hereford youth court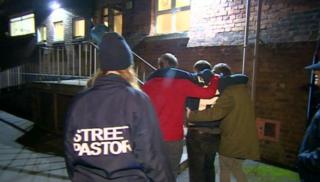 Drunk people on nights out are being invited to sober up at a new centre in Hereford.
The former youth court in Gaol Street has reopened in a bid to ease pressure on police and ambulance crews.
Run by church volunteers, it features an assessment area, recovery space and supervised "sleep-off" room.
The Emelia's unit is part of the Lean on Me project, which involves street pastors patrolling the city to help anyone they find to be in difficulty.
Hereford Street Pastors project leader, Jason Borlase, said: "Anyone who ends up in difficulty through excessive drinking will be referred to the unit for the special care we will offer."
Cliff Medlicott, from West Midlands Ambulance Service, said: "It will be a great help to the ambulance service, freeing us up to get to genuine life-threatening emergencies quicker."