Jessica Wiggins and Tyler Vallance sentenced over baby death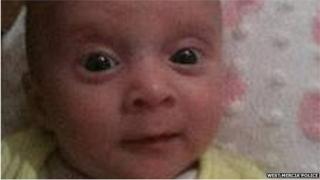 A father who killed his 12-week-old baby girl has been jailed for nine years.
Isabella Vallance died of a head injury suffered in December 2012 at the family home in Stanley Close, Redditch.
Tyler Vallance, 21, admitted manslaughter. Her mother Jessica Wiggins, 20, of Heathfield Road, Redditch, was convicted at Worcester Crown Court of allowing her death.
Wiggins was given a nine-month suspended sentence.
She was also given a year-long supervision order.
The court heard Isabella suffered nine broken ribs in two attacks. She died at Birmingham Children's Hospital.
'A good mother'
A post-mortem examination revealed head injuries and fractures to her ribs and legs.
The court heard these injuries had been suffered at the hands of her father, who had assaulted her on more than one occasion.
Wiggins and Vallance, who lived together in Redditch following the birth of their child, had been having problems with their relationship.
In August last year, Vallance was given a six-month jail term after being convicted of sexual activity with a 14-year-old girl, and of causing a child to engage in sexual activity.
In July, Wiggins - who raised her own siblings - was acquitted of a charge of child cruelty, but the jury failed to reach a verdict on a separate count of allowing the death of her child, prompting a retrial.
She was spared jail after judge Robert Juckes accepted evidence in the trial from social and healthcare workers that she was "skilled, competent and a good mother".
But he also said could not square the "truly remarkable imbalance" of her fine ability as a mother, with her apparent failure to share concerns about Vallance - who she knew could be violent - with the hospital doctors treating mortally wounded Isabella, and later the police.
A month earlier, in June, Vallance had pleaded guilty to manslaughter and inflicting grievous bodily harm with intent.
He has also been sentenced to 18 months for causing grievous bodily harm, to run concurrently with the nine year jail term.
'Extremely violent assault'
Mr Juckes told Vallance "you must have been aware how badly you hurt [Isabella].
"What undoubtedly, Tyler, you had done in that moment [of the assault] was to twist Isabella's legs in such a way so violently as to fracture the left femur and right tibia, gripping and shaking her so violently you caused catastrophic brain injury so that bleeding began and led to her very quickly losing consciousness.
"It was an extremely violent assault, from which she never recovered."
Det Ch Insp Jon Marsden of West Mercia Police said Isabella had lived for just 86 days.
"She should have had a full life ahead of her but that was taken away by her father, a callous individual who could not control his emotions or his temper," he said.
"As parents they were in a position of trust and care but sadly they did not live up to their responsibilities."