Simon Harris: Serial abuser preyed on Kenya street boys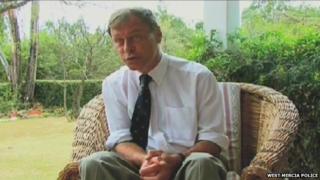 Former charity boss Simon Harris has been convicted of a string of sexual offences against vulnerable Kenyan street children. But how was he able to carry out the abuse for so long?
A jury found he sexually assaulted boys at his home near Gilgil, in the country's Rift Valley, between 1996 and 2013.
Police said they identified a number of potential victims during their investigation but believe Harris, originally from Leominster in Herefordshire, could actually have abused hundreds of boys.
Life on the streets
The plight of the victims - Kenyan street children - was a key factor in his abuse.
Mary Coulson, head of the Gilgil-based Sanata Trust, a charity set up to get children off the streets, said they led "terrible, terrible" lives.
"When I first came to Gilgil, I even saw little girls as young as two, three and four sleeping in plastic shopping bags to stay warm," she said.
British police, who travelled to Kenya to build a case against Harris, said he exploited the "extreme vulnerability" of his victims, in order to abuse them.
Lead investigator Det Ch Insp Damian Barrett, of West Mercia Police, said the children, none of whom has official ID, were viewed as "vermin" by many.
"They don't know their own ages, where they were born or who their parents are," he said.
"These are not only some of the most vulnerable children in Kenya but some of the most vulnerable children in the world."
During his trial at Birmingham Crown Court, jurors heard Harris would offer boys meals, money and shelter in order to lure them to his home, nine miles from the nearest town.
Ms Coulson said he would collect children off the streets in his white Land Rover before taking them to his residence, known locally as "The Green House".
"We learned the street kids, the vast majority, if not all of the boys, had been involved in some way with Simon Harris," she said.
"This has been going on for 20 years."
'A good man'
The attacks included beatings and sexual violence but in some cases boys stayed with him for extended periods.
Harris would offer them work at his home, such as cutting grass or cleaning.
National Crime Agency child abuse investigator, Kelvin Lay, said life on the streets was so wretched for some boys they were willing to endure "ritualistic" abuse in return for food and shelter.
"One victim described it as the difference between heaven and hell," he said.
"It was like they were suffering this sexual abuse to be in heaven rather than going back to hell."
Harris was head of VAE, a charity which placed gap year students in teaching roles at schools around Gilgil.
He set up the organisation and moved to Kenya in the mid-1990s and became known in the area as someone who helped local street children.
Film maker Robert Hollingworth, now 34, volunteered for VAE as an 18 year old.
He remembered Harris as an eccentric character who "drank a lot of whiskey" but said there was "no inkling" of what was going on with the boys.
"When you're 18 you don't look for these sort of things or question them," he said.
"At that age you just think people are a bit eccentric, there were no smoking guns."
Though there is no suggestion others who worked for the charity were aware of Harris's activities, detectives said his philanthropic image increased his standing among locals.
In a promotional video for VAE (pictured above), Harris can be heard describing Gilgil's street boys as part of a wider "family" in the schools he ran.
He speaks of his "open house" policy over footage of a number of boys playing together outside.
Two former street boys appear in the film, speaking of their new lives at Harris's home.
"Since I have been at the Green House I am well and in school," one says.
"So Mr Simon help me for everything."
Mr Hollingworth said Harris had presented himself as the "honourable face" of VAE, although he said he had done some good in the local area.
"He did a lot for the community," he said, "In terms of preparing schools and putting some infrastructure into the area."
Det Ch Insp Barratt said Harris played on this in his defence, arguing he was there to help, rather than hurt children.
Some of Harris' victims even regarded him as a benefactor, despite his offences, because he provided an alternative to life on the streets.
One victim (pictured above) told the BBC groups of boys would approach Harris because they knew he would offer them things.
"We would run to him, he would buy us lunch, sometimes he would buy us clothes and that made us very happy," he said.
"We didn't know he was an animal. We thought he was a good man.
"But we were wrong."
Could he have been stopped?
Despite Harris abusing boys since the 1990s, it was only last year that UK police were alerted to his crimes in Kenya, after a Channel 4 documentary team shared information with them.
The crew, which had been producing an episode of the broadcaster's 'Unreported World' series, discovered concerns about Harris while making a film on the plight of Gilgil's street children.
When police began to investigate the claims last spring, they discovered Harris had first been accused of sexual misconduct while working at Shebbear College, Devon, in the 1980s.
Det Ch Insp Barratt said the school had made a "quite thorough" investigation at the time and passed information to police, but parents of the children involved did not want to bring criminal charges.
The education secretary was informed and Harris was banned from teaching in British state schools.
It was this, Det Ch Insp Barratt said, which eventually led him to move to Kenya.
Police also found Harris had been convicted by an English court in 2009 of possessing indecent images of children after being arrested during a return to the UK.
These images included some of Kenyan boys. He was handed a 15-month prison sentence and made to sign the sex offenders register.
After his release, West Mercia Police was charged with monitoring Harris and successfully applied for a foreign travel order, similar to one used against pop star Gary Glitter, to prevent him leaving the UK.
Det Ch Insp Barratt said it was "quite clear he wanted to return to Kenya to continue his business with VAE".
In 2011, Harris applied to have the order discharged at Hereford Magistrates' Court.
Det Ch Insp Barratt said Harris had presented correspondence which said he had notified Kenyan authorities of his conviction and could be adequately monitored by police there.
Police said Interpol verified the correspondence and Harris' application to have the order lifted was granted.
But after his 2013 arrest it was discovered Harris had "fraudulently presented" legitimate documents.
"He exaggerated and embellished," said Det Ch Insp Barratt.
Harris was charged with perverting the course of justice as a result, although the counts against him have been left to lie on file.
A serious case review has been launched into Harris's case, to establish whether authorities could have done anything differently, Det Ch Insp Barratt said.