PCC Bill Longmore pledges sex abuse email inquiry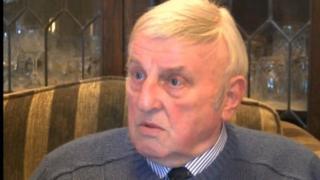 Emails alleging abuse at a former school should not have been ignored by officers, a police and crime commissioner has said.
Former pupils at St Gilbert's in Worcestershire, run by a religious order, have told how they were beaten and raped there.
West Mercia Police and Crime Commissioner Bill Longmore said he was "not happy" messages sent by one victim earlier this year were not acted upon.
The force said it was investigating.
The first email, asking if abuse at the school in the 1960s had ever been investigated, was sent on 15 January.
There were three follow-up emails after this - on 25 January, 13 February and 2 October - but while the force acknowledged receipt of them, the victim said he had never received a reply.
Assistant Chief Constable Karen Manners said: "We are looking closely around how we may have initially dealt with referrals from victim(s) in this case and have already put in place some interventions to ensure that should anybody who contacts us with such serious allegations, we are in a position to respond appropriately."
She said the force treated any allegation of child abuse "seriously".
"For a victim to seek help about this sort of crime is very brave, and it's important people feel that when they do speak out, their voices will be heard," Mr Longmore said.
Some who attended the school, run by the De La Salle order, have said they were subjected to "degrading and humiliating" abuse.
Police have launched an investigation into the allegations, which date back to the 1940s, 50s and 60s and said they were offering support to victims.
However, Mr Longmore said the crimes "should have been looked into decades ago".
"Any justice that can be provided for the victims should be pursued," he said.
"The abuse that these people suffered was appalling, and nothing can make up for the years they've had to live with what happened to them as children."
Documents obtained by the BBC showed concerns were raised about the school, in Hartlebury, at the time offences are said to have occurred.
Two members of the order, which is also known as the Christian Brothers, have since died.