Midlands gun amnesty lands 436 weapons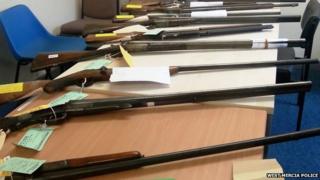 A gun amnesty in the Midlands has led to 436 weapons being handed in.
The campaign, by West Mercia and Warwickshire police forces, ran from 3 November to 16 November.
It gave anybody living in Shropshire, Warwickshire, Worcestershire and Herefordshire the chance to hand over firearms at police stations.
The forces said the firearms had been made safe and most would be cut up and melted down.
'Safely disposed of'
"Exceptionally rare weapons or those with high historical value may be donated to a museum," the forces said.
A similar West Midlands Police scheme saw a 1940s rabbit-hunting gun - stored in a loft for decades - handed in.
The forces identified 71 of the weapons as having been handed in in Shrewsbury, while Hereford saw a total of 57, Kidderminster received 44, Telford was given 48, Redditch 52 and Worcester 46.
Supt Charles Hill said the forces were "overwhelmed at the public response".
"We're fortunate not to have a major gun crime problem in the region but we do have a large number of legally-owned firearms and other older firearms in people's possession and unfortunately these sometimes fall into the wrong hands," he said.
"The majority of firearms handed in were older items that are or have been legally owned but the owner no longer needs them and wants to see them safely disposed of.
"A lot of the weapons were discovered in houses, often by relatives of people who have passed away."