Peugeot Citroen in Coventry plans 150 job cuts, union says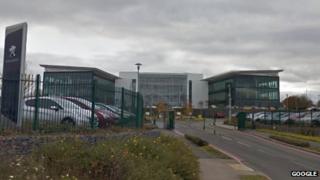 French carmaker Peugeot Citroen is to shed 20% of its Warwickshire workforce, according to a senior union official.
Unite said it was told a fifth of the 750 workers based at the sites in Pinley House and Tile Hill would go.
The company has cited restructuring for the decision and is hoping to achieve the cuts through voluntary redundancy.
Unite regional secretary Gerard Coyne said: "It's been a shock to say the least because in the UK market Peugeot is doing very nicely."
Mr Coyne said the union was told on Monday that a formal consultation period would be taking place.
The company has not so far commented to the BBC.
In February PSA Peugeot Citroen agreed an injection of cash by China's Dongfeng Motors who took a 14% stake in a move that further dilutes the Peugeot family's control.
It announced a major recovery plan in April with new chief executive Carlos Tavares unveiling plans to cut the model range by half and raise prices.
Peugeot closed its manufacturing plant at Ryton in Warwickshire in 2006, with the loss of more than 2,000 jobs.