Hereford link road route approved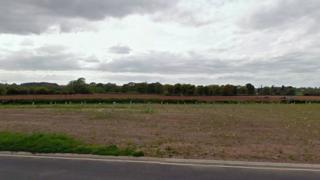 A £25m link road designed to ease traffic in Hereford has been backed by councillors.
It will join the A49 with the A465, South West of the city, running through Grafton and Grafton Wood.
Hereford Council said traffic was "near capacity" in the area and this was one step towards creating a larger bypass around the city.
Opponents have criticised the planned route, which runs through a section of ancient woodland.
Some local residents have also highlighted the cost of the project and questioned whether the road would simply move congestion from the A465 to the A49.
The scheme will still need separate planning permission and Herefordshire Council said an application was expected to be submitted by the end of the year.
Councillor Phillip Price, in charge of infrastructure, said the idea of a link road had first been raised 40 years ago, but the time was right to build it.
He said it would alleviate congestion on the A465, particularly around Belmont, as well as open up new land to build homes and businesses.
Mr Price said the road would also improve access to the Enterprise Zone in Rotherwas.
Matthew Bone, BBC Hereford and Worcester
The route was decided in front of a public gallery packed with people worried about the development.
Some claimed it would not solve congestion problems. They said it would only serve the west side of the city, meaning traffic would still go through the centre to get from west to east.
Others questioned the need for a new road at all and argued that improved bus and cycle routes would reduce pressure on roads.
Conservationists were worried about plans to build through an area of ancient woodland. Other people claimed the decision had been rushed - with accusations that some parties had not been properly consulted.
The council dismissed those claims, saying the route was the best of a number of options.