Van driver held over Hereford school bus crash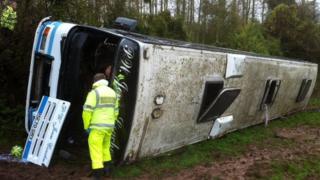 A van driver has been arrested after a bus carrying 53 pupils to school overturned in Hereford.
The 28-year-old, from Redditch in Worcestershire, is suspected of causing injury by dangerous driving in connection with Monday's collision on the B4399 in Holme Lacy.
None of the children on the bus were seriously hurt, but the driver remains in intensive care with a broken back.
Pupils have described how they helped each other to get out of the coach.
Dawid Wisniewski, 15, was listening to music on his headphones when the bus left the road and rolled down a bank.
"I had no idea what was going on, I could hear screaming and then looked to the left and I was on the ground," he said.
"I was right by the window and I got out pretty quick then got my friends out and then went to the back and made sure everyone was out.
"My arm was bleeding but I ignored it and made sure everyone was ok."
The pupils had been travelling to Bishop of Hereford's Bluecoat School and St Mary's Roman Catholic School at the time of the crash.
Paul Harris, 13, said: "There was loads of screaming and I heard cracks which was the broken glass, then Dawid smashed the window with his arm."
Most of the children were treated at the roadside by ambulance staff, while 26 were taken to hospital, some with suspected broken bones.
All have now been discharged.
The arrested man is thought to have been driving in the opposite direction to the bus, West Mercia Police said.
He has been released on police bail until January.