Hereford fire station plan withdrawn after objections to site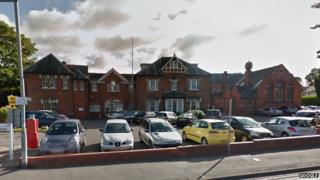 Plans to build a new fire station at a site in Hereford's conservation area have been withdrawn.
English Heritage and history groups objected to the plans for the former Hereford Working Boys Home, Hereford and Worcester Fire Service said.
The building on Bath Street is currently occupied by council offices.
Chief Fire Officer Mark Yates said after "carefully considering objections it is withdrawing its plans at this present time".
Michael Hayes, from the Hereford Civic Society, who campaigned against the plan, said the fire service had finally "seen sense".
'Heart of Hereford'
"I hope [the council] will keep the building, maintain it and perhaps build something complimentary to the building that is already there," he said.
The home for 90 orphaned and destitute boys opened in 1877 and had its own school and infirmary.
Herefordshire Council had proposed exchanging part of the land in Bath Street for the site of the current fire station in St Owen Street.
Mr Yates said the service remains committed to building a new fire station in the heart of Hereford.
A spokesman for English Heritage said it welcomed the news as the building made "a positive contribution to the conservation area".