Hereford Cathedral awarded £300,000 roof repair grant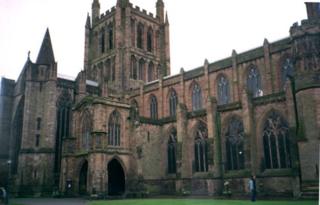 A £300,000 government grant has been awarded to Hereford Cathedral to help repair three of its four roofs.
Work on the building, which dates from 1079 and houses an original copy of the Magna Carta, is due to begin early next year.
Rotten timber caused by leaks will be replaced, along with some stonework.
Dean of Hereford, the Very Rev Michael Tavinor, said he was delighted, but said £120,000 was still needed to weatherproof the fourth roof.
The repairs will be carried out on the Booth Porch, the north aisle, the south choir aisle and the roof of the former chorister vestry.
Dean Tavinor said the work would not interfere with the Three Choirs Festival, which takes place in July.
The money came from the World War One Centenary Repairs Fund - £2m set aside by the government to repair cathedrals in commemoration of the end of the conflict.
Worcester Cathedral was awarded £250,316 from the same fund, which will be spent on window repairs.