"Catastrophic" crash in Herefordshire injures four men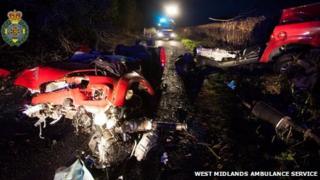 Four men are "lucky to be alive" after the front of a lorry was split in two during a crash.
West Midlands Ambulance Service said the cab of a pick-up truck broke away from the rest of the vehicle and ended up in the road, trapping the men inside.
The truck was travelling along a lane in Herefordshire when the crash happened during the early hours.
An ambulance spokesman said the damage was "catastrophic".
'Occupants trapped'
The crash occured on the A411, about two miles outside Kington.
The spokesman said it looked like the truck left the road and hit a tree.
"It appears the cab of the truck has then become completely detached from the rest of the chassis and come to rest in the road with the occupants trapped inside," he said.
The four men inside are thought to be in their 20s and had all been wearing seatbelts. All have been taken to hospital.
"Considering the catastrophic damage to the vehicle, all four were fortunate not to have suffered more serious, possibly fatal injuries," the spokesman said.