Worcestershire hospitals consultation delayed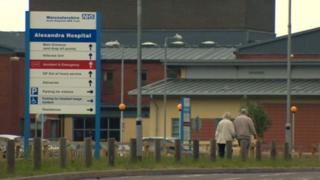 Plans to reorganise hospital services in Worcestershire have been delayed.
The £35m proposals include downgrading a number of services at Redditch's Alexandra Hospital.
It would see the majority of children's services, consultant-led maternity and the most serious emergency cases moved to Worcestershire Royal Hospital.
The plans were due to go out to public consultation before the end of the year, but will be delayed until May at the earliest.
The hospitals trust and clinical commissioning groups said a review by regional board the West Midlands Clinical Senate was now not expected to be completed until December.
While consultation would be ready to begin in the spring, they said it would have to wait until after the general election.
In a joint statement, the trust and CCGs said: "It is expected that the NHS will have to adopt the 'purdah' convention that major consultations on policy change are not made in the period immediately prior to an election."
Jo Newton, independent chair of the programme board, said it would allow the team more time to complete preparatory work.
The reorganisation plans are designed to ensure hospitals in Worcestershire remain financially and clinically sustainable, but have met strong opposition.
Campaign group Save The Alex and a number of local MPs have called on Worcestershire Acute Hospitals NHS Trust and county CCGs to protect services in Redditch.