Woodbine Willie plaque unveiled at St Paul's Church, Worcester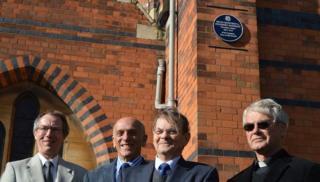 A plaque remembering a vicar awarded the Military Cross in World War One has been unveiled by his grandson.
The Reverend Geoffrey Studdert Kennedy, vicar at St Paul's Church in Worcester, volunteered as an army chaplain.
Nicknamed Woodbine Willie, he was well-known for going into no-man's-land to comfort wounded soldiers and hand out cigarettes.
Unveiling the memorial outside the church on Sunday, his grandson Nigel said it was "a great honour".
'Message of hope'
"The plaque recognises the huge contribution made to this parish by my grandfather," he said.
"It would seem that Woodbine Willie lives on in his poems and his teaching. It gives me great reassurance to unveil this plaque which marks his time at St Paul's Church in Worcester."
Geoffrey Studdert Kennedy was born in Leeds in 1883. He was a vicar in Rugby before he became a vicar in Worcester.
More than 2,000 people turned out for the former chaplain's funeral in 1929.
The plaque was commissioned by the Worcester Civic Society.
St Paul's Church senior leader David Warren said: "We are delighted to have this blue plaque on the church to remind passers-by of Woodbine Willie, and how he demonstrated God's love and compassion in the midst of the horrors of the trenches.
"As a church at the heart of the city, we aim to reach out to the local community to share that same message of hope."