Ledbury mother Mary Kidson took daughter 'doctor shopping'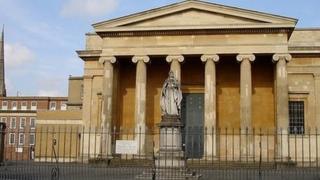 A mother accused of poisoning her daughter with a cocktail of medications went "doctor shopping" for a diagnosis, Worcester Crown Court has heard.
Mary Kidson, of Ledbury, Herefordshire, administered hydrocortisone tablets, oestrogen tablets and a thyroid extract, the prosecution claims.
Specialist Dr Neil Fraser said the 55-year-old sought "other opinions" after assessments did not find problems.
Ms Kidson has denied the charges against her.
Dr Fraser, a specialist in children's hormonal disorders, told the jury it was "vanishingly rare" for hormonal disease to develop in children who had not been diagnosed with it at birth.
Ms Kidson is accused of three counts of unlawfully and maliciously administering drugs, endangering life or inflicting grievous bodily harm between 2010 and March last year.
The jury heard Ms Kidson had taken her daughter to several doctors and for a number of assessments to test for hormonal conditions, an autistic spectrum disorder and speech and language difficulties.
'Answer you want'
At one assessment, it was concluded "no significant learning difficulties" were found, with staff stating a complaint the girl suffered with "sensory perception difficulty" was never directly observed, but only reported by Ms Kidson herself.
John Causer, for the prosecution, asked Dr Fraser about the defendant's visits to various clinics and doctors.
Dr Fraser replied: "Normally, once a person has had the common opinion of two or three of the most respected doctors in different parts of the country one might accept the conclusion was genuine and correct but when it gets to eight or more opinions then clearly something is wrong.
" ... It's commonly known as doctor shopping, going around as many as you can until you get the answer you want."
The specialist said after going to several doctors across the Midlands, the girl was referred to London's Great Ormond Street where it was concluded her formal test results were normal.
"The important thing there is that the formal tests were normal, and it only identified there might be a problem in one small area of development [auditory processing]," Dr Fraser said.
Dr Fraser read from a report which drew on the expertise of three paediatricians after being asked by the Crown to look into the girl's case history.
The doctor also told the court the case history suggested Ms Kidson concluded her daughter had a problem with her adrenal glands, which produce hormones. But when tested for disease, results returned a "normal response".
The trial continues.