Handwritten AE Housman poems fail to sell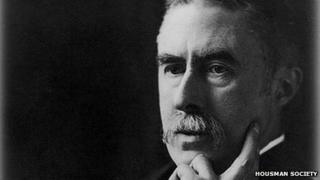 Two rare handwritten drafts of poems written by AE Housman have failed to sell at auction in London.
Epitaph on an Army of Mercenaries was written in 1917 as a response to German propaganda during World War One.
A barely visible draft of Oh Were He and I Together, described by Bonhams as one of his "most controversial" works, is written on the other side.
The manuscript, estimated to sell for £10,000 to £15,000, failed to reach its reserve price Bonhams said.
Peter Sisley, from the Housman Society, said the poet instructed his brother Laurence to destroy many of his manuscripts after his death to maintain quality, but was allowed to keep those he thought were as good as the published works.
"The trouble he [Laurence Housman] had was where on one side of the page was a poem he wanted to keep and on the other one he wanted to destroy," Mr Sisley said.
"He dealt with this by a combination of inking out, pencilling out and rubbing out the words."
'Significant poem'
As a result, Mr Sisley said the Oh Were He and I Together draft was almost impossible to read under normal light.
The auctioneers said critics were undecided whether the poem referred to his dead brother or his unrequited love for fellow Oxford undergraduate Moses Jackson.
The draft of Epitaph on an Army of Mercenaries, meanwhile, remains clear and features a number of deletions and revisions.
Mr Sisley said it was "one of the poems Housman will always be remembered for".
"It's a very significant Housman poem. It's one of the very few he wrote specifically for publication."
The eight-line poem was published in The Times in October 1917 in response to German propaganda criticising the early British Expeditionary Force for being a professional army, fighting for money, rather than patriotism, he said.
The manuscript featuring both poems last sold in 2011, for more than £10,000, and failed to reach its reserve at an auction last year.