Isis Boutique in Malvern considers name change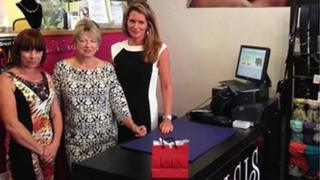 A woman says she is considering rebranding her business because it shares its name with a Middle East extremist group.
Jill Campbell has run the Isis Boutique in Malvern, Worcestershire, for seven years.
But she said people have been linking the store to Islamic State, which has killed hostages including British aid agency worker David Haines.
She said some comments have been "quite upsetting".
Some "very unpleasant" posts have also been made on social media about the shop, which is named after the river in Ms Campbell's home city, Oxford.
"I'm now in the position of thinking do I change the name or do I stick it out?" she said. "It's an unsettling time."
Ms Campbell plans to open a second boutique elsewhere in the country, but said she would "probably not" use the Isis name.
"I have absolutely no sympathy with these monsters in Syria and it is for very innocent reasons that we chose the name," she said.