Norovirus visitor ban lifted at Worcestershire hospital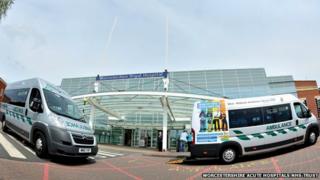 Visiting restrictions have been lifted at Worcestershire Royal Hospital after an outbreak of norovirus.
Four wards were closed to visitors from Wednesday until Friday midday following episodes of the infectious winter vomiting bug.
Restrictions were in place for the Acute Medical Unit, emergency admissions, and the Severn vascular high dependency unit.
Some of the elderly care and the cardiology units were also affected.
The hospital said extra cleaning had been undertaken in those areas and in A&E.
A spokesperson said the public should "remain vigilant and refrain from visiting the hospital if you have any symptoms of diarrhoea or vomiting".
Visitors are asked to stay away from the hospital until they had been symptom free for at least 48 hours.