Lottery funding bid for Bromyard Downs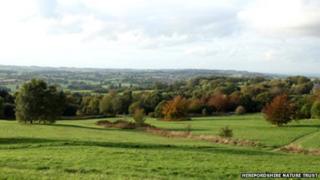 A nature trust has submitted a funding bid for a 10-year plan to help maintain "one of Herefordshire's jewels".
The Bromyard Downs is home to numerous plant and animal species, the Herefordshire Nature Trust said.
It wants to open up footpaths, stop invading plants, address dog walking issues and re-introduce grazing sheep and other livestock.
An application for almost £200,000 has been submitted to the Heritage Lottery Fund for the first phase of the plan.
The trust hopes volunteers will also help with maintenance to stop the invasion of shrub and support rare insects and birds that use the site.
An earlier consultation showed residents wanted them to improve access, open up footpaths and "address the issue of out of control dogs and dog faeces".
Species that need to be monitored include the glow worm, marbled white and green hairstreak butterflies as well as migrating birds such as stone chat, wheatear and meadow pipit.
Cuckoo, bullfinch, marsh tit, lesser spotted and green woodpecker, woodcock and stock dove also all live on the site, the trust said.
Orchids are among the rarer plants in the traditional grasslands which, along with wetland areas, support three species of newt, common lizards, grass snakes and adders.
In June the trust was successful in securing a £68,000 Heritage Lottery grant for plans to create a nature reserve at Birches Farm near Kington.