Ex-counsellor at Malvern attack school 'flattered' by reinstatement calls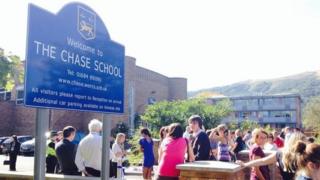 A former counsellor at a school where a 13-year-old boy allegedly attacked a teacher and fellow pupil with a knife has said she is "flattered" by calls for her to be reinstated.
Sam Morris was made redundant in February after six years at the Chase Technology College in Malvern.
More than 200 people have signed a petition calling for her to be brought back to the school.
Chase Technology College has declined to comment.
Ms Morris said she had immediately offered to support pupils affected by Monday's incident, in which a male teacher and 13-year-old girl suffered minor injuries.
A boy has been charged with 13 offences, including causing grievous bodily harm and threatening a person with a knife.
'Broke my heart'
"As soon as all the classes came out [from a 45-minute lockdown] I was there to help them, especially the class that was involved," she said.
"The main concern was trauma for the youngsters and the teacher."
Some people signing the online petition suggested Monday's incident could have been avoided if a counsellor had been in place.
"It broke my heart, I absolutely loved that job," Ms Morris said.
"My clinic was full five days a week. There are almost 1,600 pupils at the school and I probably saw 100 to 200 children a year.
"Unfortunately, cuts needed to be made at the school. Parents weren't happy, but there's not much the school could do about it."
She said she had set up the Safe With Sam mental health charity to support young people.
Ms Morris said she was going into schools, providing assemblies, clinics and support for peer mentoring projects.
"Some people say counselling is a luxury, but it's an essential part of any school.
"If you emotionally stabilise a child, they'll fly academically."