Temporary homes found for Worcester Angel Place market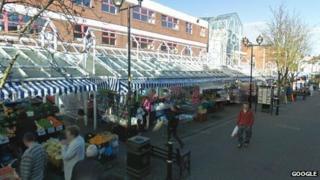 Traders facing losing their livelihoods during a major market revamp have been found temporary homes for their businesses.
A £555,000 refurbishment of Angel Place in Worcester was due to start on 1 September, but was put back a week.
Last month, Worcester City Council said it had failed to find an alternative site for the market during the three-month work.
However, it said a series of temporary sites had now been identified.
Traders are expected to be split up to sites across the city, including Pump Street, Church Street, Bank Street and parts of High Street.
Duncan Squires, who runs a flower business at Angel Place with his wife, had previously warned his business could be forced to close.
"I suppose in an ideal world yes we'd want to be all together as a market, but it's a lot, lot better to have somewhere," he said.
"They should be able to group us in twos or threes, so there's a little bit of a market atmosphere about it."
Duncan Sharkey, managing director of Worcester City Council said Angel Place market would reopen at the beginning of December, in time for the Christmas trading period.