Hereford United chairman 'will not resign'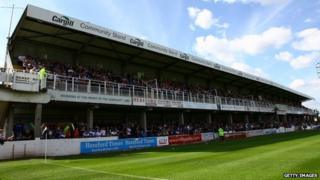 The chairman of Hereford United has said he will not resign despite the city's MP questioning his position.
Conservative MP Jesse Norman told the House of Commons that Andrew Lonsdale had a criminal conviction.
He raised the issue while urging football authorities to tighten the rules over club ownership.
Mr Lonsdale said he had no reason to step down and said the club, which faces a winding up order, would have folded already without his help.
The club was expelled from the Football Conference in June.
Its owner, Tommy Agombar, has been disqualified from being involved in the club for failing the Football Association's "fit and proper person's test".
Mr Agombar bought the club for £2 in June but said he had failed because he had served more than four years in prison over 20 years ago.
Speaking at a backbench debate in the House of Commons on Thursday, Mr Norman said Mr Lonsdale should go, as he too has a criminal conviction, although he did not disclose what this was for.
He said: "Despite a criminal conviction in 2008, despite being disqualified at Companies House from 2006 to 2012, raises, in the starkest terms possible for me, the question how on earth have the football authorities allowed such a person to be club chairman?"
Mr Lonsdale said: "People are dwelling on my past history but the issue with Companies House is now irrelevant.
"I am currently a director of three companies that I run myself and I have completed the fit and proper person's test, of which I am awaiting the outcome."