Play zone plan for behind Redditch shopping centre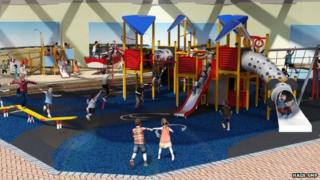 Proposals have been put forward to turn land behind a Redditch shopping centre into an exercise zone and play area.
The attractions will be built behind Kingfisher Shopping Centre under plans from Redditch Town Centre Partnership.
The group's director Ken Williams said: "It will give the town centre an exclusive and unique play area not normally found in a town centre.
"And it will make use of an area which has been left unused and redundant for some time."
Mr Williams said the initiative also aimed to help mark Redditch's 50th anniversary as a new town.
The area was one of several designated as a new town to alleviate housing shortages following World War Two.
The adult exercise zone would feature machines to help tone people's legs, arms, hips and thighs.
The children's area would cater for five to 12 year olds and feature a slide, net tunnel and climbing wall.
The partnership, which is made up of local business people and firms, has applied to Redditch Borough Council, which owns the vacant land, to create the attractions.
A decision on the application is expected to be made by October.