Alvechurch School coach crash: Wreckage released for inspection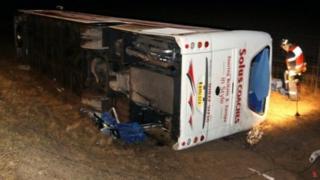 The wreckage of a school coach that crashed in France killing a teacher has been released for inspection by accident investigators.
Peter Rippington, 59, who taught at Alvechurch School in Worcestershire, died in the crash in February 2012.
More than 25 people were injured when the bus overturned down a motorway embankment on the A26 near Rheims.
The British coach driver will face involuntary manslaughter charges in a French court early next year.
Irwin Mitchell Solicitors is representing 20 children, two teachers and two ski instructors who were injured in the crash.
It started legal action last year against Interschool Travel Limited, which organised the skiing trip to France and said "a small number" of compensation claims had been settled.
'Closure'
It said other cases had been delayed because the insurance company representing the travel firm wanted to have the wreckage officially inspected.
Solicitor Clive Garner said the release of the vehicle by the French authorities was a "significant step".
"We and the families we represent still do not know exactly what caused the accident," he said.
"It is crucial that we determine why this coach left the road, first and foremost so that justice can be done, but also so that lessons are learnt to reduce the risk of a similar tragedy occurring in the future."
Coach driver, Derek Thompson, 49, will stand trial in a French court in early 2015 accused of involuntary manslaughter, the solicitors said.
Ski instructor Steve Ratheram, 53, from Yardley Wood in Birmingham suffered serious injuries to his back, ribs and chest in the crash.
He said: "For some of us, to see the vehicle and have a proper explanation about what caused the crash will give us closure."
The BBC has contacted Interschool Travel Limited for a comment but they have so far been unavailable.