Call for review of Alexandra Hospital downgrade plan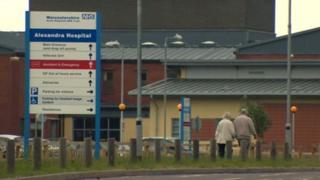 Three MPs have called on health bosses in Worcestershire to hold a fresh review of plans to downgrade services at Redditch's Alexandra Hospital.
Under the £35m proposals, emergency care and maternity services could be moved to Worcestershire Royal Hospital.
An option for University Hospitals Birmingham Trust to adopt the facility was dismissed earlier this month.
But Conservative MPs Sajid Javid, Karen Lumley and Nadhim Zahawi have said they want that option looked at again.
The Redditch and Bromsgrove clinical commissioning group said earlier this month that an independent panel had ruled out bringing in University Hospitals Birmingham NHS Trust to help run services.
It said: "This would have resulted in a significant inequality in the provision of safe and sustainable services to the population of Worcestershire."
'Best hospital possible'
Along with Worcestershire Acute Hospitals NHS Trust, it submitted the business case for the future of local health services to the government in July.
NHS England said the plan needed more work before it could be put out for public consultation.
A joint statement by the MPs said the lack of approval for the business case meant that all options should be reviewed again.
The MP for Redditch, Karen Lumley said: "We need to make sure we get the best hospital possible for the people of Redditch.
"We must not damage the future of healthcare in the area but this is the only opportunity we have to make sure this is right decision for patients and staff at the hospital."
Neal Stote from the Save The Alex Campaign said he was glad that the MPs "had listened to local people's views".