Hereford County Hospital radiotherapy unit opens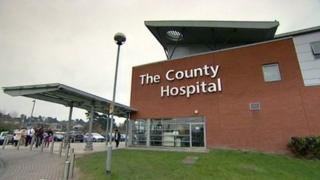 A £7.7m radiotherapy unit has been opened at Hereford County Hospital.
It is expected to provide thousands of treatment sessions a year, Wye Valley NHS Trust said.
Currently patients from Herefordshire and Powys have to travel to Cheltenham, a 40-mile (64km) journey from Hereford.
The unit, built as an extension to the Macmillan Renton chemotherapy centre, will be run and staffed by Gloucestershire Hospitals NHS Foundation Trust.
The Gloucestershire trust said while it would allow most cancer patients to be treated nearer their homes, some would still need to travel to Cheltenham for specialist care.
Radiotherapy is used to treat many forms of cancer and is sometimes used alongside chemotherapy or other treatments, the Gloucestershire trust said.
The new building at Hereford was completed at the end of April, with staff using recent months to install and test the £2m linear accelerator, which focuses high-energy radiation beams onto the area requiring treatment.