Bosbury shootings: Prayers at village church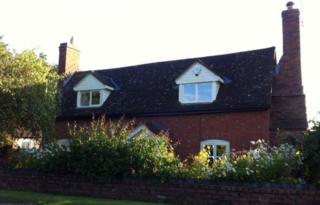 Residents of a Herefordshire village where a couple were found shot dead earlier this week are invited to the local church for readings and prayers.
John Knott, 71, and his wife Elizabeth, 70, known as Anne, died in what police believe was either a murder and a suicide or a suicide pact.
Their bodies were found at their home in Bosbury on Monday.
The Rev Nicky Seabright said the Holy Trinity Church service was a chance for the community to come together.
'Support each other'
"The community in Bosbury have been deeply shocked by the death of John and Anne as they were well known locally and were supporters of many events in the village," she said.
"We are obviously really sorry and full of sadness about what has happened and the family are very much in our prayers.
"As a community we need to come together and support each other."
A post-mortem examination confirmed each died from a single gunshot wound.
A shotgun registered to Mr Knott was recovered from the scene, West Mercia Police said.
Mrs Knott had a progressive form of dementia, Ms Seabright said.
The couple were last seen about 12:00 BST last Saturday.
Ms Seabright said the church would be open all day on Saturday for personal prayer and reflection and a service of readings, prayers and quiet meditation will be held at 18:00 BST.