Hereford United given two weeks to pay off debts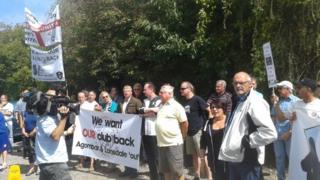 Hereford United has two weeks to pay off its debts after its repayment proposal was rejected.
The club met with its creditors on Thursday in the hope of agreeing a Company Voluntary Arrangement (CVA).
But insolvency practitioner Mark Landsman told the meeting HM Revenue & Customs (HMRC), which is owed £170,000, had rejected the offer.
It means the club must find "major investment" by September 1, when it faces a winding-up petition in court.
'Distressed debts'
Mr Landsman said the club is likely to be liquidated unless it manages to secure funds before the court appearance.
The meeting also heard former owner Tommy Agombar, who was disqualified from any involvement with the club, has sold his shares to Essex-based Alpha Choice Finance.
Mr Landsman described the firm as one which purchases "distressed debts".
Mr Agombar bought the club for £2 in June and said he had invested about £240,000.
Club directors John Edwards and Elke Thuerlings said one of the key terms of the CVA was for Mr Agombar to "carry on supporting the club financially".
A CVA is a payment schedule limited companies and their creditors can draw up to allow a firm to continue trading while it repays debts.
For the agreement to be put in place, it must be approved by creditors who hold at least 75% of a company's debt.
The Bulls were expelled from the Football Conference in June for failing to pay their bills.