Hereford United owner fails FA fit and proper person's test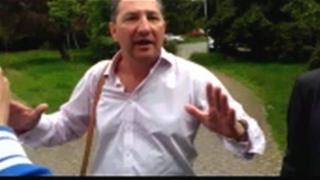 Hereford United's owner has been disqualified from being involved with the club after failing the Football Association's fit and proper person's test.
Tommy Agombar told BBC News he failed because as he has served more than four years in prison, over 20 years ago.
He was introduced to fans at Edgar Street on Saturday, the first game of the new season, but the club said it was also his "official goodbye".
Mr Agombar said he was "gutted".
He bought the club for £2 in June and said he had invested about £240,000 and that he was effectively a creditor, but if he asks for the money back then the club would not survive.
'Pay everything'
The Bulls were expelled from the Football Conference in June for failing to pay their bills.
A long-standing winding-up order was adjourned again in July until 1 September.
Some debts have been settled and the club will meet creditors on 15 August to finalise a Companies Voluntary Agreement to sort out other bills.
Mr Agombar said: "I kept the club going and I've become a fan.
"I was willing to pay everything to get the club sorted but if I can't - then the club will crash. I'm gutted about the situation."
Directors John Edwards and Elke Thuerlings said on Tuesday that Mr Agombar took on a "far worse financial position than he had been told" when he bought the club.
He can only own a few shares, they said.
About 250 protesters gathered outside the ground on its opening Southern League game on Saturday to voice their disapproval at the club's management.