Hereford United fans protest before first game in Southern League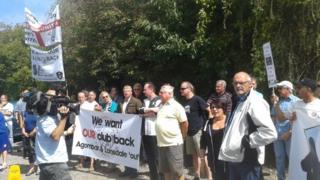 About 250 protesters gathered outside Hereford United's ground to voice their disapproval at the club's management.
The numbers outside were around half the 568 fans in attendance inside the club's Edgar Street ground for the 2-0 loss to St Neots.
The Bulls were expelled from the Football Conference due to the club's failure to pay its bills.
Fans chanted "We want Tommy out" at owner Tommy Agombar and some had banners saying "We want our club back".
'Peaceful but vocal'
The club was only awarded a safety certificate for its ground by Herefordshire Council 48 hours before its opening Southern League game on Saturday.
Supporters' action began at 14:00 BST but the crowd left shortly after the 15:00 kick-off.
Some fans have expressed concerns over the club's future and Mr Agombar after he appeared not to know the full extent of the club's debts when he bought it.
BBC Hereford and Worcester journalist Justyn Surrall, who saw the crowds, said: "It was a peaceful but vocal protest.
"There were lots of chants showing the protesters' feelings."
Andy Lonsdale, chairman of Hereford United, said he thought fans should "embrace" Mr Agombar.
He said: "I think they should give him a chance.
"He's put a lot of his money into this club and he could lose that money.
"We want to preserve the history of Hereford here and turn it into a legacy for the future."