Evesham mother's family demand apology over cancer death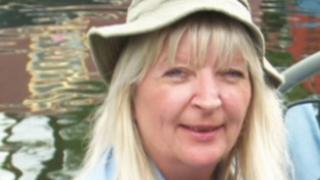 The family of an Evesham woman who died from bowel cancer are demanding an apology from a health trust, claiming she was repeatedly misdiagnosed.
Shirley James, 56, became ill in February. She was tested for glandular fever and later told a scan for ovarian cancer was negative, her family said.
She was admitted to hospital in June and told she had bowel cancer.
Worcestershire Acute Hospitals NHS Trust said it will meet the family to "listen to their concerns".
Wendy James-Carter, her daughter said: "[The trust] reassured my mum, on the phone, that she did not have cancer and that she was just going to go back in and have some more tests."
'Listen to concerns' promise
She said her mother was admitted to the Worcestershire Royal Infirmary in June when she "lost control of her bowels".
Her relatives are also angry that Mrs James was given the news of her cancer when there were no family members present.
Mrs James was moved to St Richard's Hospice on 16 June and died the following day.
Celina Eves, deputy chief nurse at the trust, said: "We are very sorry to hear about the issues around the care of Shirley James and I would like to offer my condolences to her family and friends.
"I have tried to contact her family to try to arrange a meeting with them where I can listen to their concerns and understand where Shirley's care should have been better."