Evesham motor racing champion in Australia challenge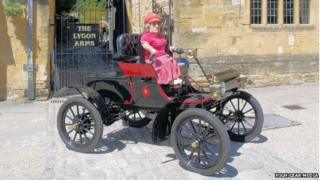 A former motor racing champion has embarked on a trip across Australia, hoping to become the first woman to do so in a single-cylinder vehicle.
Joy Rainey, 61, from Evesham in Worcestershire, will drive her 110-year-old Curved Dash Oldsmobile from Adelaide on the south coast, to Darwin on the north.
It will take Ms Rainey, who is of restricted growth, a month to complete.
The route measures about 3,050 km (1,900 miles).
Her 1904 Oldsmobile has tiller steering, two gears and a top speed of around 28mph (45km/h).
Ms Rainey was successful in both hillclimbing and karting events.
During the 1970s she held the ladies' outright record at many hillclimb venues in the UK; including the Shelsley Walsh Ladies Hillclimb, where other than in 1984, she was the titleholder from 1972 until 2002.
She is the only woman to have crossed the United States, from Florida to California, in a single cylinder car.