Fish rescued from River Teme in Herefordshire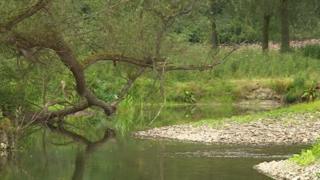 Dozens of fish are being rescued from the River Teme in Herefordshire after falling water levels left them stranded in small pools.
The dry weather has caused water levels to drop and the Environment Agency said the fish, stranded between Leintwardine and Knighton, will be moved.
They were being stunned using a light electric current and transported to other parts of the river.
River levels will continue to be monitored, the agency said.
Fish had to be rescued at the same time last year due to water levels dropping.
There is a risk of the fish suffocating because of a lack of oxygen in the small pools, the agency said.
Following work at Brampton Bryan, Laura Bullock from the agency said at least 10 brown trout had been caught.
She said: "If that sort of number [was] left every year to die, there'd be a big gap."
The River Teme is a Site of Special Scientific Interest.