Super Puma co-pilot death 'preventable', says coroner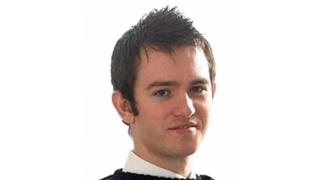 A helicopter crash which killed its co-pilot and 15 other men could have been prevented, an inquest has found.
Richard Menzies, 24, from Droitwich Spa, was on board the Bond Super Puma when it crashed into the North Sea, killing all those on board.
Worcestershire Coroner Geraint Williams said the April 2009 crash, off Peterhead, came after a "catastrophic" gearbox failure.
He echoed an earlier inquiry which found proper checks were not performed.
'Significant fault'
Returning a narrative verdict, Mr Williams identified "a number of failures" in the helicopter's maintenance programme.
He said this "meant that opportunities to detect and rectify incipient problems were lost and which, had they been detected and acted upon, may have prevented the crash occurring."
A fatal accident inquiry held before Sheriff Principal Derek Pyle, which concluded in March, found a "significant gearbox fault" was missed.
Relatives have called for a criminal prosecution but a case has never been brought.
Mr Menzies's father, Andrew, said the inquest verdict was "probably" what he expected. He said he would like an independent judge to look at the evidence to satisfy the victims' families.
"As a father I miss him terribly," he said.
The inquest into Mr Menzies' death, at Worcestershire Coroner's Court, was adjourned while the main investigation took place.
Aviation Minister Robert Goodwill apologised to families of the victims for the delay in completing the investigations, but rejected the idea of a full public inquiry.