Teacher Brett Holden banned over pupil hugging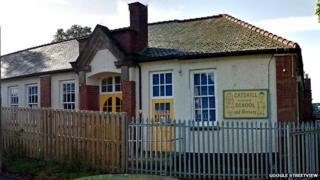 A deputy head teacher who inappropriately hugged pupils and took them out of school to buy teddy bears has been banned from teaching.
Brett Holden, 37, worked at St George's primary school in Kidderminster and Catshill first school in Bromsgrove, both in Worcestershire.
The Department for Education (DfE) said there was "extensive and consistent evidence of inappropriate behaviour".
The county council said it had "worked to ensure children were safeguarded".
The report specified Mr Holden "failed to maintain appropriate professional boundaries" in that he cuddled and tickled pupils, allowed them to call him dad, let them sit on his lap, fed a pupil with a spoon and took four pupils out of school to buy teddy bears.
Worcestershire County Council said the schools involved took immediate action when they were alerted by colleagues about Mr Holden's behaviour.
"Although [Mr Holden] had resigned his post before the conclusion of the investigation, the findings were considered to be serious enough to be referred to the National College for Teaching and Leadership," a spokeswoman said.
No parents had made a complaint about the matter and there was no suggestion Mr Holden's actions had been of a sexual nature.
Mr Holden has a right to appeal against the decision.