Two men rescued from Himbleton floods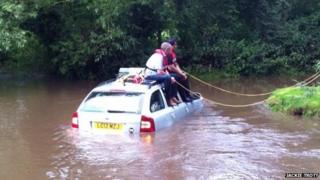 Two men were rescued after becoming trapped in flood water in Worcestershire on Saturday evening.
Hereford and Worcester Fire Service said the men were forced to climb on to the roof of their car after it became stuck in a flooded ford at Shell, near Himbleton.
Crews from Droitwich and Pershore rescued the men shortly after 19:20 BST.
The car was pulled clear by firefighters using ropes.
Another vehicle was also recovered.
A man was also rescued from the River Severn, near Diglis Weir, at 12:20 on Sunday, the fire service said.
Dave Throup, from the Environment Agency, said Worcestershire received some of the heaviest rain in England on Saturday, with some parts subjected to more than 36mm in just 12 hours.
A flood alert remained in place on the River Stour in Worcestershire on Sunday.