Bromsgrove gravestones for railway workers restored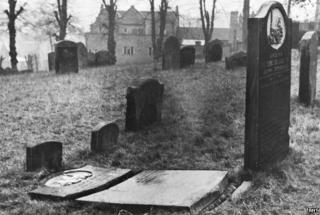 The gravestones of two railway workers killed in Worcestershire have been restored after £10,000 was donated.
Thomas Scaife, 23, and Joseph Rutherford, 32, died after the boiler of an experimental locomotive they were working on exploded on the Lickey incline, Bromsgrove.
They were buried at St John's the Baptist Church in the town.
Ten organisations donated the money to restore the gravestones marking the tragedy on 10 November 1840.
The Railway Heritage Trust (RHT) donated half of the money needed.
Andy Savage, executive director of the trust, said the site of the graves was "an unusual piece of railway heritage".
He said: "I hope that it is a mark of respect for the two men and it encourages people to visit the graves and Bromsgrove."
Little was known of the two men, said Mr Savage, besides their ages and that Mr Rutherford was married.
Alastair Moseley, from the church and a railway enthusiast, started the fundraising because his father John used to take him to visit the graves as a child.
He said: "Lots of people are always asking to see them and there will be a lot of interest again now they're restored."