'Flagship Herefordshire nature reserve' wins Lottery funding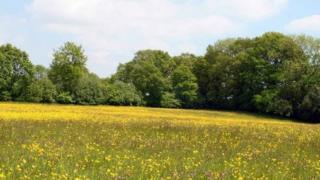 Plans to create a "flagship nature reserve" in Herefordshire have been backed by a £68,000 Heritage Lottery grant, a wildlife trust has said.
Herefordshire Nature Trust plans to create the reserve on a 60-acre site at Birches Farm, near Kington.
The trust needs to raise £1.5m to purchase the site from the charitable foundation which currently owns it.
In January the farm was designated a Site of Special Scientific Interest (SSSI).
Chief executive Evan Bowen-Jones said: "The site is an important example of an old farmstead that has hardly changed in 100 years.
"There are several species of orchid that grow on the site and traditionally-managed hedgerows. It's been farmed by one family in a very traditional way, which means it's a bit of a time capsule. We are hoping to preserve the site's natural and cultural heritage."
Herefordshire Nature Trust leases Birches Farm from the Esmée Fairbairn Foundation and hopes to purchase the site outright from them.
The trust will use the existing farm buildings on the site to create an interpretation centre for visitors.