Expelled UKIP councillor performs by-election U-turn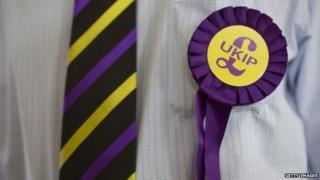 A former UKIP councillor who resigned his seat after allegedly making racist and homophobic remarks has dropped plans to stand again as an independent.
Dave Small resigned from Redditch Borough Council on 5 June after being expelled from the party.
At the time, the 81-year-old from Redditch said he planned to win back the seat in a by-election and that his comments had been taken out of context.
Explaining his U-turn he said: "The papers would have had a field day."
And he added: "I would have liked to stand again, but at 81 I don't see the point."
Mr Small allegedly posted his remarks on Facebook, calling African migrants "scroungers" and Clare Balding and Sir Elton John "perverts".
He later admitted he was homophobic but not racist as he had "a lot of black friends".
In one of his posts, he said: "Eastern Europeans are everywhere - you can't move for them.
"It's the same as in Redditch now, most of the bus drivers are from Poland and nearly all the taxi drivers are Pakistanis."
Seven candidates have registered to contest the Church Hill by-election on 17 July.
A police investigation into Mr Small's comments is ongoing.