Hereford United fans to meet council over grounds fears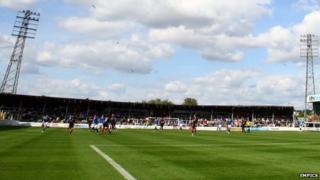 Worried fans of troubled Hereford United are to meet with Herefordshire Council to discuss their fears over the future of the club's ground.
The council, which owns Edgar Street, is considering a request to lease two stands at the ground to The Bulls' new owner, Tommy Agombar.
The club was expelled from the Football Conference this week after failing to pay bills.
Hereford United Supporters Trust will meet the council leader on Tuesday.
Fans requested the emergency meeting and started a petition after the council confirmed it would consider lease proposals from London-based businessman Mr Agombar.
The petition was signed by more than 1,700 people in its first day, almost reaching the club's average attendance for the last season of 1,758, supporters.
Martin Watson, from the Hereford United Supporters Trust, said: "If he gets this, two of the stands could be demolished. There have been suggestion of houses and a hotel there. "
Mr Agombar, who took control of the club on 3 June, has denied allegations he intends to sell the land to developers.
The council said Hereford United still owed it about £65,000 in rent arrears, business rates and legal fees and any discussion about leases would include a financial "process of robust due diligence".
The club also still owes more than £70,000 in tax to HM Revenue and Customs.