Herefordshire hospital units reopen after redeployment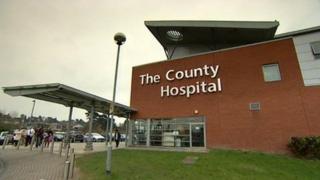 Two minor injury units are reopening after being shut so staff could be redeployed to an under-pressure accident and emergency unit.
Wye Valley NHS Trust decided to close the two units, at Leominster and Ross-on-Wye community hospitals, in mid-May.
Hereford County Hospital has had up to 180 patients a day at A&E - "unprecedented demand... for this time of the year", the trust said.
Leominster's unit reopened earlier and the Ross unit will open on Tuesday.
Trust chief operating officer Neil Doverty said: "I'd like to apologise for any inconvenience the temporary closure of these two units has caused.
"Our staffing situation has improved and we're now able to fully reopen the MIU [minor injury unit] at Leominster, and to open part-time at Ross-on-Wye, with a view to fully opening the Ross MIU as soon as possible."
The Leominster unit is open from 08:30 BST to 17:30 BST between Mondays and Fridays while the Ross facility will open between the same times on Tuesdays, Wednesdays and Thursdays.