Redditch schools shaken by Tudor Grange secondary bid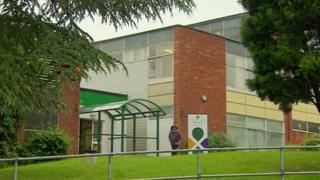 Parents in Redditch are fighting to keep middle schools in the town.
A consultation put forward by the Tudor Grange Academy Redditch could see the three-tier system of first, middle and high schools, change to two tiers of primary and secondary schools.
It wants to change from a middle to a secondary school, taking children from the age of 11, from September 2015.
Parents have set up a group to oppose the proposal and a meeting with the education secretary has been requested.
Sharon Harvey, from the group, said the academy is "acting as a business and not in the interests of Redditch".
"Redditch is a new town - all the schools were built for the middle school system... it would cost millions of pounds for Redditch to change to a two-tier system," she said.
"Our three-tier system is really successful at the moment: all our schools are getting great results."
Stephen Brownlow, head teacher at the academy, said he wanted to accept children from 11 years old rather than 13.
"We would have pupils for five years prior to taking their exams and therefore we would be able to better prepare them and get even better examination results," he said.
Local MP Karen Lumley has written to Education Secretary Michael Gove asking for an "emergency meeting" on the Redditch education system.
She supports the two-tier system but says she is "deeply concerned" about the academy's proposals.
The consultation ends on 20 June and if the academy decides to continue with its plans, it will then seek approval from the government, through the Educational Funding Agency.